At Tekfortune IT India Pvt Ltd we offer tailor-made Project Solutions to ensure the proper execution of your company's IT projects.
We have expertise in IT outsourcing services covering Design Services, System Implementation, and Application Development Management. We are capable of offering scalable and cost-effective IT solutions to match your company's needs.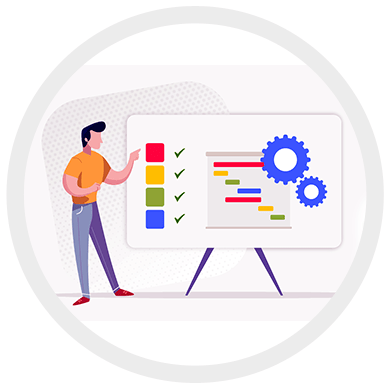 Business Transformation- The deployment of new IT technologies and specialized applications often change the workflow in many companies. We offer necessary IT staffing solutions to accomplish the workplace transformations that have a long-lasting impact on the staff, work culture, and processes in the company.

Custom Applications Development- Sometimes using third-party software solutions is not viable, and you may require in-house software. You need veteran, skilled candidates capable of developing such solutions. Count on our IT Staffing Solutions to match your talent needs, anytime.

Digital workspace- Remote working is becoming the new normal many businesses are embracing the idea of the digital workspace. We focus on user-based IT services that enable the employees to work with flexibility.

Enterprise applications- The advantages of Enterprise applications for any company are obvious. Using CRM and ERP applications helps in enhancing workflow and productivity in the organization. We take care of your skilled candidate needs to operate such specialized tools.

Cloud and Infrastructure-Nowadays, nearly every company is switching to cloud services for diverse operational needs. We have the requisite expertise to provide you with Cloud and infrastructure services and the maintenance of the same as well. This helps in enhancing operational efficiency and safety of data.

Cybersecurity: In an era when cybercrime keeps MNCs on their toes, your company requires skilled staff to handle online security threats and implement Cyber Security measures best suited for your industry. Try our IT staffing services to safeguard your company's computer networks against hacking and other cyber-attacks.